Barrister's Profile
Hassan Fancy, Doctorate in Law (Graduated with Honors)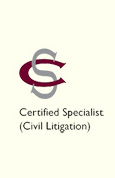 Certified as a Specialist in Civil Litigation by the Law Society of Upper Canada;
Author of ground breaking legal book: see www.demonstrativeadvocacy.com;
Presently, Hassan is co-lead counsel in a 3.5 billion dollar proposed class action law suit against the Ontario Lottery & Gaming Corporation. The tort action is un-precedented at a global level. The action seeks to hold the casinos in Ontario accountable for, amongst other things, losses suffered by pathological gamblers. The proposed class action was preceded by the Court's decision in Treyes v. OLGC [2007] (S.C.J.) where Mr. Fancy, through the use of Demonstrative Advocacy, successfully sued the OLGC, on the same grounds asserted in the class action.
Eshtablished legal precedents in advocacy, tax, tort, immigration and other the legal fields. See Significant Succeses;
Graduate of both U.S. and Canadian Law Schools;
Student Law Clerk to Chief Justice Re of the U.S. Court of International Trade;
Winner of the prestigious Jessup International Moot Court competition (U.S. and World Cup Level);
Past Director of Ontario Trial Lawyers Association;
Past President's Club Member of the American Association of Justice;
Hassan is the Managing Barrister of the firm Fancy Barristers P.C., where he practices civil litigation with an emphasis on catastrophic torts, pathological gambling litigation, and medical malpractice. He has over fifteen years of litigation experience.
Hassan Graduated from the Queens University Faculty of Law in 1992. As a law student (NYLS) he clerked for Chief Justice Re of the U.S. International Court of Trade in New York. He was also one of a six member team which also won the Alona E. Evans Award for International Round Best Brief-Second Place, and Brunson McChesney Award for U.S.A National Champion in the Phillip C. Jessup International Law Moot Court Competition. He was then inducted into the Order of the Barristers (U.S.).
For the past twenty years Hassan has practiced civil litigation in Canada.