Who Are We? : Our Philosophy
Sample page from Book of Demonstrative Evidence (Treyes v. OLGC)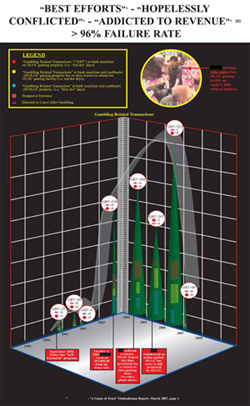 We do not look upon the practice of law as a mere "business" but rather a unique means to improve the world with the help of our enviable judicial system. Tort trial lawyers along with judges are perhaps the last bastion of ethical forces in modern society.
Our business model uniquely limits, to less than 100 in any given year, the number of cases we accept. The smaller caseload permits us to provide noticeably distinguishable work (see Class Action at www.problemgamblerslawyer.com), provide significant access to justice at our own expense (see "Charitable Advocacy Program"), publish/teach on advocacy (review our book at www.demonstrativeadvocacy.com), provide scholarship (see "Law Student Scholarship Fund") and research and develop Demonstrative Advocacy. The ethical Financial Model thereby facilitates success for our clients, and helps to shatter stereotypes against visible minorities in our society, and provides significant satisfaction for us at many levels.
The adjacent Cartesian graph was developed using the techniques of Demonstrative Advocacy. The graph was based on extensive research and development, to show our client's attendances/losses at the OLGC over a six-year period despite a Self-Exclusion Agreement. Read the decision (Treyes v. OLGC) under Significant Successes.